Moving to a Sunny State With Your Pup? Here's How to Make It a Smooth Transition
Posted by Dan Gossett on Wednesday, February 15, 2023 at 4:30:21 PM
By Dan Gossett / February 15, 2023
Comment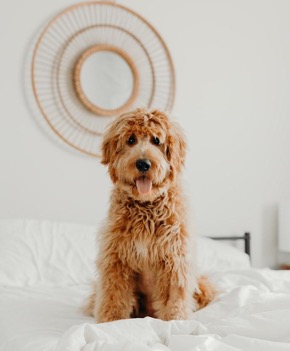 Image via Unsplash
You might be completely prepared for your relocation to a sunny new state like Florida or California, but when you have a dog, you must make some special considerations. How will your pup adjust to its new home? How can you help them acclimate to the heat if you're moving from a colder region? How can you maintain a routine and reduce Fido's anxiety during the transition?
Your move to a sunnier state should be exciting. And this article from Shine Real Estate will help you ensure your four-legged companion stays comfortable, safe, and healthy in the process!
Research Your Insurance Options
First of all, consider setting your pet up with insurance in your new state. Many factors will determine which provider and policy are best for your pet and your budget, including the maximum pet age, coverage level, premiums, and deductibles. Pawlicy Advisor notes that the good news is you have options when it comes to pet insurance. Take advantage of customer reviews and several quotes because you evaluate different plans.
Shop for the Best Products
Once you've sorted out insurance, make a list of products you can purchase to keep your pet safe and healthy as they adjust to their new living environment. Always consider customer ratings before buying any specific products. And take it up a notch and find helpful pet care advice, reviewing product sites that provide veterinarian opinions on each item. You'll be more confident knowing you're purchasing a product that's been approved by a vet.
Make Sure Your New Home Is Suitable
Hibbs Homes points out that your new home will need certain features and amenities to accommodate your pet's needs. For example, your dog must have a comfortable living space, and if they're in their golden years, they'll need to set up on the first floor, so they don't have to go up and down the stairs frequently. Also, ensure a barrier around your property prevents them from wandering off into the woods or road.
Find a Vet
We know — this seems like an obvious tip. But you might be surprised at how many pet owners neglect to find a veterinarian they can trust. Take time researching the different clinics in your new area, read client reviews, and ask other pet owners for their recommendations.
Work With Movers
You have more than enough to think about and tackle as you prepare to move out of your old home and make the transition to your new one. Moving is stressful, and it can be downright overwhelming when you're also responsible for a pet.
One of the best investments you can make is hiring a professional moving company to get your belongings from A to B. Some companies will also pack your items, giving you one less thing to think about.
Keep Your Pet Comfortable
Finally, consider how you can keep your pet comfortable as you relocate to sunny Florida or California. After all, moves are stressful for everyone, and we have to be mindful of how our stress can rub off on our pets. Likewise, keep in mind that if your new state is a hotter climate than you're used to, you'll need to help your furry friend gradually adjust and avoid overheating. In other words, you probably don't want to take them for a long walk in the middle of a hot day or leave them in your vehicle for an experience.
That being said, dogs crave exercise. So if you live near the places where you need to run some errands, try leaving the car at home and walking instead. They'll appreciate the extra activity and you'll both benefit from the exercise and fresh air. But always ensure your pet has access to adequate shade and fresh water. And learn to identify early signs of heat stroke, such as restlessness, a lot of coordination, traveling, or heavy panting.
Also be sure they're well hydrated and have healthy dog food on hand. You'll want to be sure you have your dog's favorite healthy dog food available and ready for them, so go online to check the best resources to help with your search for the food that's just right for them depending on their age and activity level.
Moving doesn't have to be stressful or chaotic. Start preparing today by researching pet insurance plans and pet products. Think of any amenities or features you need in your new home, and find a reliable veterinarian and moving company. In no time, you and your four-legged friend will be strolling into a brighter future!
Shine Real Estate represents the region's finest properties with exceptional skill using the most innovative technologies currently available. Team up with Shine today by calling (916) 836-5326!
Written by Charles Simmons of tosellortostay.com